TURNKEY & CUSTOM MODULAR HOMES
Modular construction offers a fast, sustainable and affordable alternative to traditional construction, whether it's for a secondary family home on a subdivided block or a guest house perched on the rolling hills of a rural vista.
Modular homes, cabins, workers accommodation and rental accommodation are an extremely viable option for anyone who is looking for the construction of a high quality structure with minimal fuss.
At Westbuilt Homes, we've been experts in modular home construction since 1993. We pride ourselves on designing and building beautiful homes which meet all relevant Australian building standards in record time. Our promise to you is that you'll be able to move into your new modular home in as little as 16 weeks from your decision to go ahead.
As builders, we have adopted great flexibility in our processes and will always listen to your ideas with a 'can do' approach. Dreaming of a nice large living area designed to take in the view? We can make it happen. Want to build a sprawling heritage style home on a sloping block? We've done it all before.
We offer both turnkey and custom home designs, so you can build your new home the way you want.
If you'd like to learn more, talk to us today about arranging a no obligation consultation. We'd love to show you all the possibilities that you can explore with modular construction.
What exactly are modular homes?
Modular homes aren't built on-site like a "normal" house. Instead, they are manufactured in a factory, with up to 80% of the construction work completed in the factory before the structure is transported on flatbed trucks in sections to your block of land. Once delivered, each section is assembled together, and the house is connected to power and water.
Modular homes are usually constructed from treated timber, galvanised steel, weatherboard, plasterboard and other materials that will withstand the rigors of transportation.
5 quick reasons to build a modular home with Westbuilt Homes
Flexible Designs - Our design services are highly flexible. If you already have a wish list of what you'd like your modular home to feature, we will work with you to create a stunning one-of-a-kind custom home. You can put your own stamp on the design and have influence over the choice of decor, bench tops, tapware, colours and finishes. Alternatively, you can take one of our turnkey designs and we can adjust it as much or as little as you like.
Quality Control - Every component of every modular home that we build is assembled in our factory, meaning that every stage of the build is under constant supervision for your peace of mind. We use our own skilled workers (who work all year round in the factory), so they're not subject to frequent delays that often happen with on-site contractor labour who may prioritise another job over yours at a moment's notice. Your home will be inspected at multiple stages of the fabrication process, which is a more thorough and accurate process than a single inspection at the end of the build.
Fast Turnarounds - Modular construction is inherently quicker than traditional on-site construction. As we assemble everything in our factory, our team can keep working even if it's raining, so you don't have to worry about weather delays. Also, we are able to seamlessly schedule different trades (carpentry, electrician, tiler etc) to complete each stage of work directly one after the other.
Sustainable - Construction waste is minimised in our factory setting as everything is pre-measured and pre-cut to size, so our modular homes are inherently a sustainable way to approach construction. Also, all of our modular homes have at least a 6-star energy efficiency rating and are designed to minimise heating and cooling costs, further reducing your environmental impact.
Streamlined Process - With so much experience under our belts, we have our consultation, design and assembly processes constantly running like a well-oiled machine. Our goal is to always provide you with a stress-free build process.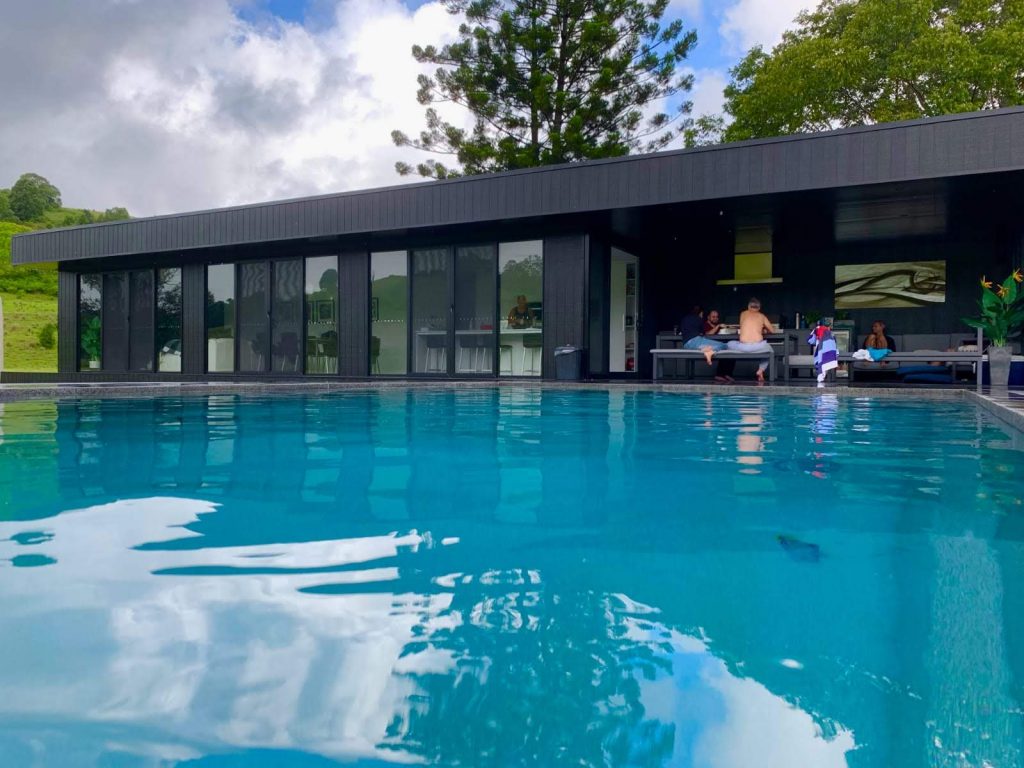 Our modular home design and build process
How it all comes together in a few short months
No Obligation Consult
If you'd like to start the journey of building your own modular home, the first step is to arrange a no obligation consultation with our team. We can meet you on your block of land anywhere in Queensland or Northern NSW (or the block of land you'd like to buy) to discuss your possibilities and ideas for a modular home. This first step will help us get an understanding of the unique properties of your block so we can in turn design a home which will completely suit your needs.
Initial Deposit and Design Work
After an initial deposit has been paid, our talented team will start creating designs for your new home by working carefully with you to ensure we capture all your wants and needs.
Fixed Price and Fixed Move in Date
Once your design has been signed off on, we will provide you with a fixed price* for the whole project - from the manufacture of your home to its delivery and assembly on your block. We can even organise your utility connections if desired.

During this stage, we will also provide you with a fixed move in date so you will always have a clear understanding of the timeframes involved.
*Client variations made to the design plans will incur additional costs.
Sign Contract
When you are happy to proceed with our fixed price, contracts will be drawn up and signed so we can really get started on your new home for you.
Council Process
Most local councils are easy to deal with and as a result, most modular construction projects run smoothly. However, we all know that there can be challenges with paperwork and processing. During this stage, we'll help you navigate through any relevant council processes required so there are no hold ups and you can move into your new home as soon as possible.
Factory Construction
Now it's time for our busy team to get started on constructing your new home in our state-of-the art factory. This process is expedited compared to traditional construction as you won't have to worry about wet weather delays holding up the work of various tradespeople.
Delivery
Finally, the big day has arrived! Your modular home will be split into transportable modules and loaded onto flatbed trucks. Depending on your block of land, a crane may be used to lower the modules onto your land. It is usually only a short time between delivery of your home onsite and the handover (usually 4 - 6weeks).
Want to see for yourself how easy it is to build with Westbuilt Homes?
Get in touch with our expert team today. We'd be more than happy to answer any questions you have about our designs, our processes and the possibilities that modular construction can offer you.
Call us today on 1800 688 044 or fill out the form on this page and we'll get back to you as soon as we can.